Blog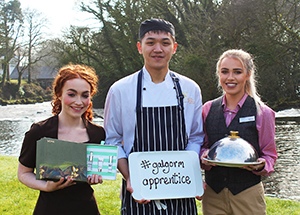 Galgorm Resort & Spa Launches Apprentice Programme
06 March 2018
Galgorm Resort & Spa has launched 3 Apprenticeship Programmes, commencing September 2018, as it seeks to train up the next generation of hospitality professionals.
Building on the success of The Resort's trainee management and operational trainee schemes, the new apprenticeships offer a comprehensive one-year programme where students will have the opportunity to learn as you earn, develop new skills, acquire knowledge and practical "hands-on" experience in either Food & Beverage Service, Professional Cookery or Spa Therapy.
Apprentices will follow the standards as set out in the City & Guilds & CIBTAC framework and in conjunction with Northern Regional College and Bronwyn Conroy Beauty School will provide students with masterclasses and workshops to enhance their learning and development all during their 35 hours per week – 2 days classroom based/3 days practical on-site experience.
The Resort, home to 122 bedrooms, a unique thermal Spa Village as well as boasting 4 on-site restaurants & bars and extensive conferencing and banqueting facilities - offers the ideal venue to learn every skill required within the industry.
Commenting on the Apprenticeship Programme, General Manager, Colin Johnston said:
"Since its conception, The Resort has been known for setting the benchmark when it comes to gracious hospitality, elegant features and exemplary service. That quest continues as we seek to develop and inspire passionate professionals in their hospitality careers by investing £250,000 annually in these schemes.
These apprenticeship programmes are an excellent opportunity for young people looking to make a career in hospitality and wishing to learn all aspects of the industry. Galgorm Resort & Spa with its wide range of facilities and experienced management team offers the perfect place to gain this comprehensive grounding. Working with some of the most energetic and motivational managers in the industry, apprentices will have a hands-on insight into the operation of one of the UK & Ireland's busiest and most successful Resorts.
The Resort is constantly expanding, and we have a 'grow our own' strategy focussed on the development of the next generation of hospitality professionals who will become the managers of the future and help shape the future of The Resort".
Galgorm Resort & Spa enjoys a global reputation for excellence and is consistently rated as one of the best hotels in the UK & Ireland. It comes as no surprise Galgorm Resort & Spa was named Global Spa of the Year 2017 at the World Luxury Hotel Awards. This combined with 20 other wedding, dining and spa awards throughout 2017 demonstrates that excellence comes as standard.