Blog
Irish FA Announce New Partnership with Galgorm Resort & Spa
10 September 2018
The Irish Football Association is delighted to be partnering with Galgorm Resort & Spa who are the new official partner to the Education and Heritage Centre at the National Football Stadium at Windsor Park.
Through the partnership, Galgorm Resort and Spa is offering all Irish FA campaign cardholders free admission to the Education and Heritage Centre. The TripAdvisor 5-star rated attraction has proven to be a major hit with fans since opening in 2017 and involves a two-hour visit to the centre and a guided stadium tour.
Irish FA Sales and Marketing Director Simon Fitzpatrick was keen to put Northern Ireland fans at the centre of this partnership.
He said: "We are delighted to partner with a fellow top Northern Ireland tourist attraction in Galgorm Resort & Spa. Through this partnership, we are able to reward our loyal fans with a premier visitor experience completely free of charge. It's a great way to say thanks for their amazing support.
"The Irish FA's Education and Heritage Centre has proved extremely popular with visitors and is currently listed as fourth on the list of best things to do in Belfast on TripAdvisor, having only opened in March of last year.
"We are continually looking to enhance the visitor experience and this partnership will give access to our loyal fans over the coming years."
Colin Johnston, General Manager of Galgorm Resort & Spa said:
"We are extremely pleased to have joined forces with our National Football Team in a sponsorship deal that reflects our commitment to the community. The passion and spirit of the team and the Irish FA, and its active engagement with the local community aligns with our ambition to continually deliver an exceptional experience for our guests and ensure that our Resort continues to develop as an active and integral member of the community.
"It's an association with real heritage and the creation of their Education & Heritage Centre at the National Football Stadium last year presents a fantastic opportunity to showcase much of the 136-year history of the game here with locals and tourists alike. The success of the senior team at international level has showcased Northern Ireland as a key player on a global stage; a key driver in the development of Galgorm Resort & Spa. Our continuous investment within The Resort is testament to our vision of enhancing our reputation as a Resort Destination globally. We are confident that we can work together cohesively to raise the profile of Northern Ireland."
Campaign Card holders will be emailed in the coming weeks to advise on how they can claim their free visit.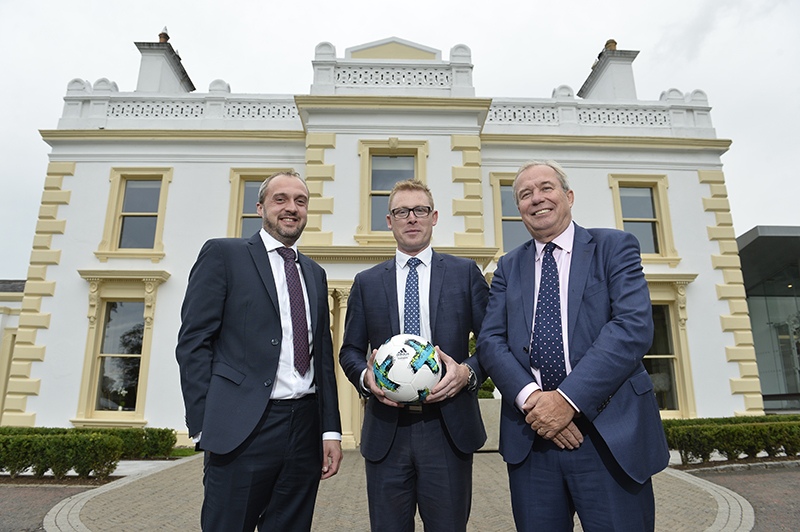 Pictured L-R: Colin Johnston (General Manager, Galgorm Resort & Spa), Simon Hamilton (Sales & Marketing Director, Irish FA), Frazer Evans OBE (Non-executive Director)