Blog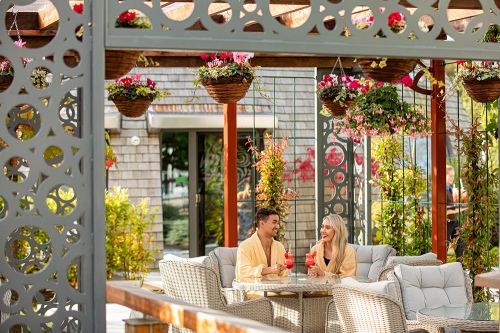 Make 2020 The Year of Self Care
09 December 2019
Goodbye 2019, Hello 2020!
The turn of the New Year is a peculiar time, a sort of limbo if you will. There can be the feint remnants of festive decor lurking around the corner, albeit without the air of engulfing festive cheer. Your tentatively dipping your toes into what can only be described as a sort of normal routine after weeks of prosecco for lunch and mince pies for dinner. Top this off with the frightful appearance of bank balances and the long awaited payday, which of course seems to have lasted at least three months too long and you've found yourself in the midst of January.
While some find the act of setting New Years Resolutions cathartic, we understand that with even the greatest will in the world, it can be tricky to stick to resolutions, no matter how good your intentions are. Why not throw caution to the wind and cast those resolutions aside in favour of a little self-care? After all, we all know the most productive of times come about following a period of relaxation. Let us help you to set yourself up for 2020; the year of self care…
Retreat, Recharge and Reset
Relaxation comes as standard at Galgorm with generously proportioned guest rooms with all the amenities one could need for a break away from reality. Top tip: opt for a Deluxe Guestroom to soak up sun rise and dusk views across the extensive Thermal Spa Village - thank us later! The aptly named Galgorm Luxury Experience includes an overnight stay, Thermal Spa Village Relaxation, sumptuous full Irish breakfast and a complimentary mini bar from £180 for two guests. Alternatively, when one night simply isn't long enough, our Galgorm Prestige Experience from £295 for two guests is just what the doctor ordered and allows you to explore all the Resort has to offer at your leisure.
Find Your Zen
Start your year as you mean to go on with a gentle introduction to the art of relaxation. If you're yet to experience the inimitable Thermal Spa Village then where have you been hiding? A paradise for the zen-seeker or first time spa-goer, the immersive space where indoors meets outdoors will leave you feeling tranquil, grounded and light as a feather as your worries and stresses ebb away in an environment where you can truly unwind. Be sure to grab a map when you arrive and meander your way around the indoor and outdoor facilities, with notable mentions to the unique Snow Cabin and outdoor Beltane Hot Tub & Fire Pit. Between dips make your way to the River House where infra red relax beds offer the best seats in the house to watch the cascading River Maine flow past.
To kickstart your year we have created two Day Spa Experiences to leave you refreshed and ready to take on the world. Soul Soother is available from £70 per person and includes Thermal Spa Village relaxation, followed by a 40 minute Rasul treatment - perfect to enjoy with a friend or loved one, or simply for some me-time. Round off your Spa Day by enjoying lunch in Elements, all in the comfort of your robe - bliss! Elevate your Day Spa Experience with our Winter Wellness package available from £95 per person, including a 60 minute Stretch Therapy, Down to Earth Back Massage and Mood Boosting Facial, Thermal Spa Village relaxation and of course a nutritious super food lunch in Elements. Book now and spark that excitement that comes only from forthcoming plans… choosing the package for you should be the only difficult decision you need to make this New Year.
Glow Get 'Em
We love to set goals at the beginning of the year; marking all that we hope for in the coming twelve months. A new job, saving for that house deposit or taking up that new hobby that's been niggling away at the back of your mind. But what if we told you we could help you achieve those illusive #SkinGoals? Much like the weather, January can leave skin with a post-Christmas hangover where alcohol and indulgent diets can leave skin a little lack-lustre and in need of some TLC. Offering a range of skin improving rejuvenating treatments, The Skin Clinic at Galgorm is the first stop on your journey to improving your skin health. Our Skin Expert will conduct an in-depth analysis using the SkinScope Scanner to decipher your skin type and specific concerns that you wish to address. From here you will be guided through your treatment, whether that be the Expert Skin Specific Facial, Microneedling or Dermaplaning. Unsure of the treatment for you? We've pulled together informative Frequently Asked Questions to myth-bust and provide more information on each of these innovative and highly effective treatments.
More Midweek Plans
January (and let's face it, sometimes February) are synonymous with bleak bank balances and a promise to devote more time to the kitchen. Deprivation is a sure fire way to draw out what often feels like the longest month of the year. That's why we're championing the return of midweek plans. Send the call out on WhatsApp and schedule in an IRL catch-up with friends on an evening that suits you. Mondays get a bad reputation, but Tuesdays really take the biscuit - not at Fratelli! Tuesdays means Friends at Fratelli where guests can enjoy a delectable main course and glass of wine for only £16.95pp, or if you simply can't wait that long, brighten up Mondays with Buy One Get One Free on Main Courses, that's a sure fire way to settle the pizza and pasta debate. If Italian doesn't tickle your tastebuds, what about a mouthwatering Steak? Wednesday is Steak Night at Gillies Grill where you can fill up on Steak, Side Sauce & a drink for £23