Blog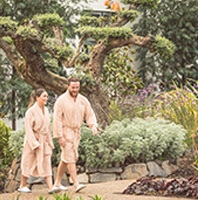 New Year's Resolutions Revised
09 January 2018
Resolutions; often we spend more time deliberating whether or not to succumb to the sometimes arduous, sometimes cathartic, goal setting task, rather than actually sit down and look forth to the year ahead. Nevertheless, romantic reminiscence of the year gone by and wistful hope for the year ahead makes January the perfect opportunity to hit reset and reconsider our habits, hobbies, and hopes for the future.
We understand that with even the greatest will in the world, it can be difficult to stick to resolutions, due in no small part to January and all that comes with it. Dark evenings, chilling temperatures and the frightful appearance of bank balances; a stark contrast to the buzz of festive cheer that seems all but a faint memory. All hope is not lost, however! A little kindness and self-compassion can make the bluest of months bearable, or at the very least, instill that spark of excitement that only forthcoming plans can ignite. It's time to rethink those archaic resolutions in favour of those you can really commit to. After all, you can revisit them another time…
More 'Me Time'
The turn of the year usually brings with it the intent to be kinder to ourselves; leave the office on-time, no phones after 9pm and nutritional lunches as far as the eye can see. Embracing some 'me-time' will set you in the right frame of mine to ensure you're operating on the best version of yourself and where better to disconnect and take five than the Thermal Village. Don your robe and join us for a Spa Day from £49 per person.
Spend Quality Time Together
Hectic and often clashing schedules can mean we often neglect spending time with our nearest and dearest. Friends, family, and spouses can often become an afterthought when there are a thousand and one items to tick off that to-do list (that's growing as we speak). Connecting with those in our support network is just one of the ways to reduce stress. Another includes taking some time to relax, unwind and indulge in a little decadence; precisely what we had in mind with our Destination Deluxe package.
Try Something Different
From coffees to lunch, the 'usual' is fine. It's comfortable; just ok if you will. Often we need just that little shake-up to our routine to excite and invigorate our senses. If you haven't experienced the purifying qualities of Galgorm's unique mineral mud serail, I implore you to give this ancient art of cleansing a whirl in our Arabic inspired chamber. Beginning with an exfoliation with Dead Sea salt to remove dead skin cells and prepare your skin, the experience is completed with a mineral-rich 100% natural mud; perfect to draw our impurities post-party season. Make a day of it with our Winter Sensation Package from £69 per person.
Achieve Your Fitness Goals
New Year, new outlook on fitness! Daunting as it may seem, rushing into a new gym routine complete with as many #cleaneating #fitfam Instagram hashtags as you like, is a sure fire way to land yourself back to square one. Stepping back and taking a holistic approach towards your journey of optimal health and wellbeing will enable you to set measurable and most importantly achievable goals to work towards. Thermal Village & Spa Membership provides access to one of the finest luxury spa Resorts in the UK & Ireland. Picture long soaks in the hydrotherapy pool following a workout in our fully equipped Fitness Suite. Need we say more? Contact our Membership Executive today to begin your journey.