Blog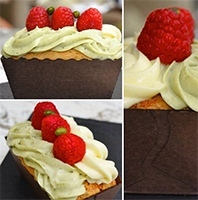 White Chocolate, Raspberry & Pistachio Cakes | Recipe
24 August 2016
The Great British Bake Off returns tonight & we couldn't be more excited for our annual fix of Mel & Sue puns as well as the the inevitable baking catastrophes that will ensue... (#BakedAlaskaGate, anyone?). Try your hand at these delicious White Chocolate, Raspberry & Pistachio cakes from Head Pastry Chef Lynsey
What you will need
- 200g Butter
- 200g Caster Sugar
- 200g Self-raising Flour
- 1tsp Baking Powder
- 4 Eggs
- 50g White Chocolate Chips
- 50g Pistachio Nuts (chopped)
- 300g Icing Sugar
- 150g Butter
- 50g Cream Cheese
Method
1) Pre-heat oven to 160
°
C
2) Place all ingredients in a bowl, ensuring to sift the flour, and beat together until well combined.
3) Pipe mixture into individual loaf cake cases and place a few raspberries into the cake mix.
4) Bake at 160°C for 15-20 minutes depending on the size of the tin. When a skewer is inserted into the cake it should come out clean*.
5) While the cakes cool, prepare the buttercream icing. Beat together the butter, icing sugar and cream cheese until light and fluffy.
6) Pipe onto cooled cakes and decorate with raspberries and pistachio nuts.
*The juicy raspberries may leave a residue on the skewer.
Enjoy!