Blog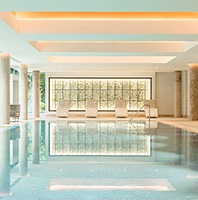 Thermal Spa Membership | What Our Members Say...
04 December 2017
Membership of the Thermal Village & Spa at Galgorm offers access to one of the finest luxury Spa Resorts in the UK & Ireland where a holistic approach to wellbeing is our core focus. Annual membership is perfect for local residents as well as those visiting the Resort on a regular basis. We caught up with a number of our members to find out what membership at Galgorm means to them.
"As a member what makes the Spa Village special to me is simple, the vision to continuously redefine your health and well-being experience and the excellent team of people who provide first class customer service. There is nothing better than a spa visit to relax and recover after a busy day whether with a little exercise, a therapy room or even a bit of both."
"I am nearing the end of my first year as a member of Galgorm Spa. It has been a great year.
From the moment you walk through the door to the Spa, you feel like you are escaping the real world for a while and have the luxury of all the fantastic facilities at your finger-tips while interacting with staff that are always friendly and professional.
The facilities, including the gym, swimming pool, and thermal area have enabled me along with the personal trainer's guidance to improve my level of fitness and get back in shape.
The member's social events are a treat on the calendar allowing you to get to know new people develop new friendships.
I would thoroughly recommend membership to the Spa"
"I have been a member of Galgorm Spa for a number of years now. I find the tranquil environment, coupled with the luxurious facilities and surroundings, create the perfect setting for relaxation. It is the ideal place for catching up with friends over a coffee.
The thermal village, spa and swimming pool are state-of-the-art facilities which I thoroughly enjoy and use regularly. I also attend the fitness classes which are delivered by qualified instructors. In particular, I have found the Stretch Classes to be especially beneficial.
The staff are very attentive and friendly, contributing greatly to the overall ambiance of the Spa and provide a superb service to members."
"What being a member of "Galgorm Spa" means to me. From the minute you arrive the staff are always very pleasant and eager to assist. The Members' Manager, Karen Clifford is extremely approachable and always goes out of her way to sort out any questions or queries I have ever had.
It is a great place to meet up and make new friends, as I have done. You can either exercise or relax the choice is yours, from the gym, tennis courts, golf course or swimming pool. Alternatively just opt to have a snack in 'Elements', relax in the orangery, hot tubs, or steam rooms, the list goes on.
We have just had your annual Members night which is complimentary of Galgorm, it was a very enjoyable evening, a great opportunity to meet other members.
I would recommend Membership to everyone."
For more information or to begin your journey of optimal health & wellbeing, contact our Membership Executive here