Blog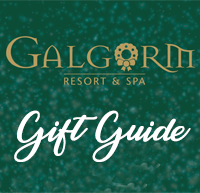 Your Guide To Gifting 2018 | #ChristmasAtGalgorm
09 November 2018
The eagerly anticipated Christmas adverts have been released - vying for our attention and tugging at our heartstrings - marking the return of this most wonderful time of the year where spirits are high and shopping lists are growing by the day.
If somewhere along the way, between sampling every festive sandwich and hot drink combination the high-street has to offer, you're considering getting a head start on your Christmas shopping, then we have just the news for you.
Remember last year? And the year before? When you solemnly swore you wouldn't leave your shopping to Christmas-eve, frantically shopping the remnants of the supermarket shelves. If that rings a bell fear not, for 2018 is the year of the improved shopper and we're making it easier than ever with a Gift For You along the way. Until 30th November, for every £100 of Gift Vouchers purchased online, you will receive a £10 Gift For You voucher free!
If that isn't enough, we've curated our 2018 Guide to Gifting, so whether you're shopping for your mother, brother, husband, sister, colleague, cousin or other, you'll need to look no further…
For The Luxury Lovers
Gifting can be tricky at the best of times and particularly so for those who enjoy the finer things in life. Watch their eyes light up as they receive a Galgorm Experience voucher to redeem against a curated selection of experiences. Starting at £100 with options covering indulgent dining, spa pampering, and the unmistakable Serenity Bathing, you can be sure you're adding a little Galgorm sparkle this gift-giving season.
For The Foodie
Food is the universal language that brings people together and we only need to take Christmas time as the perfect example of this; families gathered around the table laden with foodie treasures. For the foodie in your life, we have designed the perfect experience vouchers to substitute the traditional cookbook gifting. Whet their appetite with one of our Gourmet Wine Evening vouchers entitling them to a cava and canapé reception followed by a sumptuous five-course dinner for two with a glass of wine to accompany each course. If a more casual affair is on the cards, a Dinner For Two voucher can be used in Fratelli Ristorante, Bar + Grill at Gillies or the latest member of our family; Castle Kitchen + Bar.
For The Zen Seeker
We all have that one friend that miraculously appears to have it all together and they do so with grace and poise. How do they do it? And what IS their secret? Well, truth be told we all deserve a little R&R, a touch of tranquility, an escape from the frenzy of everyday life. With one of our Spa Gift Vouchers, your loved one will experience the utmost in relaxation and wellness. Choose from a Thermal Spa Village Experience or for an all-encompassing spa experience, the Day Spa Experience for One includes a rejuvenating 60-minute spa treatment.
There's no doubt Christmas can be an indulgent time of the year where tins of Celebrations are bought in bulk and prosecco available on tap. If your Secret Santa is more into fitness than fudge, the One Month Taster Membership will have their eyes lighting up with joy! The one-month membership to the award-winning Thermal Spa Village & Fitness facilities will allow the recipient to indulge in the taste of wellbeing that our exclusive Membership has to offer. Did someone say, New Year, New Me?
For The Ginnoisseur
"There'll be much mistletoe-ing and gin will be flowing…" That's how the Andy Williams classic goes, right?! For the juniper enthusiast in your life, forgo the bottle of artisan gin in favour of an experiential treat they can mark into their calendar. Make their Christmas dreams come true with a voucher for one of our bi-monthly Gin Evenings. Valid for two guests, this gin-ful gift entitles you to a selection of gin cocktails and samples from the distiller, matched with light bites from the Galgorm Kitchen alongside a masterclass from a gin expert.
For The One Who Has It All
The one who has it all (and more). The arduous task often faced when we want to impress, but simply can't pin down their particular style, or perhaps you simply do not know them all that well! This is where the humble monetary gift voucher comes into play. The flexibility of a monetary voucher makes it the ultimate gift for your recipient to spend however they wish, be it a romantic getaway with a partner or simply a well earned pamper break.
Make the most of your spot on the nice list and ensure you purchase your vouchers before the 30th November to receive a free £10 Gift For You voucher for every £100 worth of vouchers purchased.
View our range of Gift Vouchers here & let the gift-giving begin!