Blog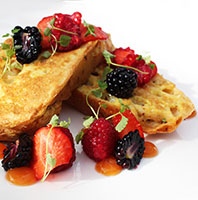 French Toast | Recipe
12 January 2018
French Toast (Serves 4)
What you will need:
- 50 g Butter
- 25g Sugar
- 50ml Milk
- 8 slices Sourdough bread (approx ¾ inch thick)
- ½ teaspoon cinnamon powder
- Pinch of nutmeg
Method
1) Mix together eggs, milk, sugar, cinnamon and nutmeg.
2) Heat butter in a non-stick pan on a medium heat.
3) Dip bread in egg mixture.
4) Fry until golden brown on one side then flip to cook the other side.
5) Serve warm with topping of your choice.
Topping Suggestions
- Mixed berries (raspberries, blueberries and blackberries) and crème fraiche
- Maple syrup and chopped pecan nuts
- Strawberries and whipped cream
- Sliced banana and chopped hazelnut
- Roasted peaches and vanilla ice cream
- Mini marshmallows and hot chocolate sauce