Blog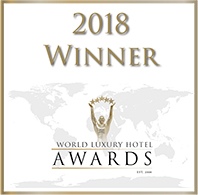 Galgorm Goes Global | Global Luxury Spa Hotel of the Year 2018
22 November 2018
World Luxury Hotel Awards 2018
Galgorm Resort & Spa in Ballymena, Northern Ireland is delighted to announce they have won Global Luxury Spa Hotel of the Year 2018 at the 12th World Luxury Hotel Awards 2018.
As a global winner of the Luxury Hotel Spa award, this places Galgorm Resort & Spa firmly on the map as a world-class destination, beating competition from some of the world's most iconic spa Resort's.
The prestigious World Luxury Hotel Awards were held on 10th November at Ayana Resort & Spa in Bali, Indonesia. 360 guests from over 100 countriestravelledto Bali to attend the impressive black-tie event, which awards the world's finest hotels for their luxury offerings and exceptional service.
The Masters of Ceremonies for the event wereTV hosts for E! News Asia, twins Maria and Elizabeth Rahajeng. They expertly guided the audience through the glittering awards ceremony where awards were presented to luxury hotels and resorts on a Country, Regional, Continent and Global basis.
Colin Johnston, Manager at Galgorm Resort & Spa commented 'We are extremely proud to be globally recognised for offering a choice of exceptional accommodation and spa facilities, coupled with genuine Irish charm and the highest of standards and service excellence. We really have put Northern Ireland on the world stage as a destination offering the best spa hotels. I would like to take this opportunity to congratulate the team on this outstanding achievement'.
Over the last year, Galgorm has received a number of high-profile global awards including:
Resort Spa of the Year for Western Europe and Scandinavia at the World Spa and Wellness Awards (Feb 2018)


Host Venue for the 2018 World Luxury Spa & Restaurant Awards (July 2018). The first time the event has been held in the UK or Ireland.


Best Luxury Hotel Restaurant (Northern Europe) for the River Room and Best Luxury Countryside Spa (UK)
Galgorm Resort & Spa is also investing heavily into its resort offering, service and staff with 2019 bringing a number of new developments. More news to follow soon.