Blog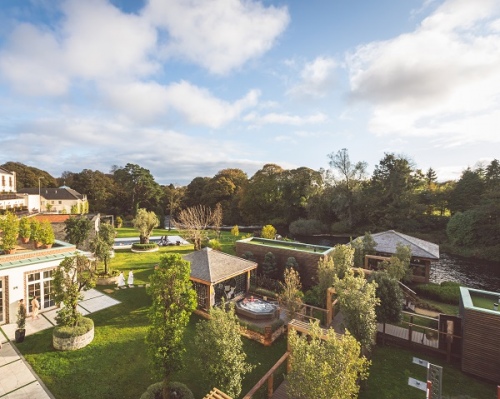 Galgorm Spa & Golf Resort Sets Monday 27 July Target For Reopening
28 May 2020
Galgorm Spa & Golf Resort confirmed today that it is open for bookings for overnight stays, day visits and restaurant bookings and plans to have all its new operational procedures in place by Monday 27th July.
Subject to a further update from the NI Executive, it said it hopes it can welcome guests from the end of July.
Northern Ireland's premier tourism and hospitality destination said it was introducing a new and comprehensive series of industry-leading measures to reassure guests of their safety and comfort during their stay. Galgorm shared the measures it was taking with authorities earlier this month.
Galgorm Spa & Golf Resort, which employs more than 750 staff, closed on Saturday 21 March as part of the government's plans to restrict the spread of Covid-19 and protect the NHS. Most staff have been furloughed temporarily but The Resort hopes that by setting a date now, numbers can return gradually over the coming weeks ahead of reopening.
"We have for several months been preparing and rehearsing a precision-based approach to reopening which prioritises the health and wellbeing of all our team and our guests which goes above and beyond any guidelines published elsewhere. I would stress that this is a target date and that first and foremost, the safety of our team and guests is paramount. However, if we get closer to the date and government guidelines deem it is not safe to open we will move the date." said Colin Johnston, Galgorm Collection Managing Director.
"New and returning guests can be reassured by the steps we are taking to safely manage every guest visit. We have not underestimated the importance of these and we are confident in the measures which we will be introducing."
"Delivering a world class service to our guests has always been our goal and the mark of our success and we look forward to sharing our award-winning hospitality experience with guests once again when it is safe to do so."
"We will only reopen once advised that it is safe but we hope that by working towards a reopening date for now, we can ensure that every possible measure is in place and that staff are fully trained and appraised of the new procedures."
Galgorm confirmed that subject to working together with government and local council guidance all areas of The Resort would be reopening, including the Thermal Spa Village, River Room Restaurant & Conservatory, Fratelli, Castle Kitchen + Bar and McKendry's Bar + Lounge.
The Resort will also be offering safe spa treatments from when advised, while its award-winning Thermal Spa Village, 90% of which is located outside, will be open for guests.
Galgorm said that after working closely with a range of leading hospitality bodies, it has developed "Our Hygiene Commitment", new enhanced hygiene and standard operating procedures covering every aspect of The Resort. It has made these new standards available online.
A major investment in new technology will also support the measures agreed, Galgorm said.
This includes the introduction of thermal cameras to monitor temperatures of staff and guests arriving on-site, temperature checks, aerofog generators to sanitise areas throughout The Resort and decontamination units the same as those used by health professionals. The availability of 24 hour hand sanitiser and established social distancing measures for team members and guests, supported by wall and floor signage are also included.
The Resort is also introducing guidance which includes a new and enhanced cleaning regime in all areas, removal of touch points and appropriate PPE use, hand hygiene and best practice advice for customers.
All experiences must be pre-booked by customers in advance to support measures introduced. Team members will also be fully trained and regularly briefed on the new standard procedures which will be kept under continuous review.
For more information, or to book your visit to Galgorm Spa & Golf Resort please visit www.galgorm.com
ENDS…/
For media enquiries please contact
Geri Wright Or Olivia Budde from LK Communications:
E: geri@lkcommunciations.co.uk; M: 07538 092378
E: olivia@lkcommunciations.co.uk; M: 07792 045486