Blog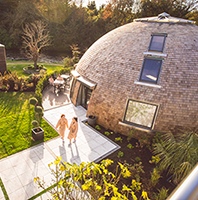 Spring Serenity | Things To Do
31 January 2018
Farewell January I hear you cry! Arguably the longest, most arduous of months, where bank balances and the weather look suitably anaemic and the thought of resolutions sends a shudder down your spine. All however is not lost! Ahead lay brighter days (quite literally), as we welcome the long anticipated Spring months. With it's subtle appearance at every corner, the once barren branches begin to flourish while a stretch in the evening becomes a leap toward Summer, and so too do our thoughts wander to foot loose and fancy free evenings with friends. To celebrate it's arrival, we have curated your definitive guide to making the most of Spring at Galgorm Resort & Spa.
Spring Sensation
You could be forgiven for mistaking the Thermal Village as a spring haven. Bursting with beautiful foliage year-round, thousands of daffodils, crocus and tulips begin to re-appear around this time of year, peppering the 75,000 square feet of Thermal Village with a spectrum of colour. Those who are long-overdue a serene Spa Day will be suitably impressed with the newest addition to the Resort; the Serenity Garden. Whether you are looking to indulge the senses or detox the body and soul, the Serenity Garden offers seriously Instagram-able scenic pathways meandering around green lawns, olive trees and apple orchards. There has never been a better time to dust off those winter cobwebs with a Spring Day Spa package from £69 per person.

Experience Elements
Traipsing around the Thermal Village is a sure fire way to work up an appetite and Elements provides the relaxing environment for a nourishing interlude during your journey of rediscovery. A lot has changed since last Spring, most notably the awe-inspiring halo dome structure that is home to Elements, located in the heart of the Thermal Village. If it's structure itself doesn't impress, perhaps the fact that it is only 1 of 5 such structures in the world will! Offering freshly prepared salads, hand baked pastries and deliciously more-ish crepes, you can be as virtuous or indulgent as you like. We recommend trying a rejuvenation drink; designed to replenish the body with vitamins and minerals leaving you truly refreshed.

Savour A Taste of Spring
Renowned for showcasing a taste of what's in season, The Conservatory's seasonal Afternoon Tea Menus have become almost as anticipated as the changing of the season itself. Miniature savouries include something for adventurous and the traditionalists alike; goats cheese and caramelised onion quiche feature alongside a bonafide afternoon tea classic; egg and spring onion on white bread. When it comes to something that will certainly satisfy your sweet tooth, seasonal fruits take centre stage with mouthwatering strawberry trifle and the dreamy combination of lemon and raspberry in our delicate friands. No leisurely afternoon would be complete without the accompaniment of a delightful cup of tea to complete proceedings. Whatever your cup of tea, we have a blend of Mr.Jones' tea for every palate.

A Taste For The Finer Things
Boasting 3 AA Rosettes for culinary excellence Head Chef of the River Room, Chris Rees has designed a menu of gastronomic delights, showcasing dishes that are true to the carefully selected ingredients, manifesting to something of an experience to be remembered. For those who have yet to savour the culinary prowess of the River Room kitchen, the five course tasting menu is the perfect introduction to the ethos of the River Room.
Springtime Gin-Time
While we would happily sip on a G&T year-round, a delicately refreshing gin encompasses Springtime like no other. Our resident Gin connoisseur or 'ginnoisseur' Matthew recommends the intriguing Nordés Atlantic Galician Gin accompanied by none other than Fever-tree Mediterranean. Served with red and white grapes and edible viola flowers, the bold, floral flavour profile will transport you to the spirit's eponymous origins.

That's Amore!
Warm and welcoming, Fratelli Ristorante's hidden gem lays in their all-Italian wine list. From rapturous reds to pearly whites, there's a glass to accompany every dish. For the indecisive among you, we have enlisted the help of restaurant manager Georgie who recommends Biferno Rosso Riserva DOC Palladino 2012. Full of slightly dusty rustic charm, with mouth-watering sour cherry flavours, a hint of spice and refreshing savoury herbs, Georgie's choice is smooth, quenching and interesting enough to enjoy on its own, but with enough boldness to pair with pizza, hearty meat or aubergine based pasta.
So if it's perfect pauses, an escape from the madness of everyday life, or simply a well-deserved treat, say hello to Spring at Galgorm Resort & Spa (and be sure to
Tweet
or
Instagram
your enviable snaps to @GalgormResort #GalgormGems)