Blog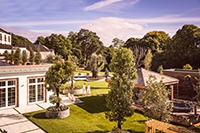 Summer Staycation | Things To Do
10 April 2018
The subtle stretch in the evening has become a leap towards Summer and while it may feel like we're caught in the strange hinterland between what is truly Spring and what is truly Summer, the tortuously tentative glimpses of sunshine we're experiencing suggests the latter is closer than we think. With two bank holidays and a certain Royal celebration on the horizon, spirits are high and holiday allowances healthy; what better time to start penciling in of those footloose and fancy-free Summer plans?
Savour The Season
Synonymous with the changing of the season itself comes Galgorm Resort & Spa's eagerly anticipated seasonal Afternoon Tea menus. If you like Pina Colada (and not the cheesy 1979 pop classic) you are guaranteed to enjoy indulging in the sweet yet creamy delight of Pina Colada pannacotta, not to mention the quintessential lemon drizzle cake and delectable strawberry mille-feuille; worthy of a Hollywood Handshake alone. Though tradition would have it that tea is the order of the day, a G&T upgrade to your Afternoon Tea will have you reminiscing of summer garden parties on the lawn with two gin-based cocktails to accompany.
Gourmet Wine Evening
Sticking with dining, Galgorm Resort & Spa has become somewhat of a treasure trove when it comes to dining options with four on-site restaurants designed to excite an array of palates, each with their atmospheric dining ambiance. For the bona fide foodies yet to experience the decadence of a Gourmet Wine Evening, I urge you to put down your Michelin guide and prepare your taste buds for an evening of gastronomic delights. Orchestrated by Chris Rees, Head Chef of the River Room, guests can expect to be regaled with a wine and canapé reception before savouring the team's gourmet cooking paired with a glass of wine, chosen to complement each dish, and introduced by a special guest speaker. Join us for our next Gourmet Wine Evening taking place Thursday 14th June.
Summer Serves
Long or short, dry or sweet, I think we can all agree that a gin is never more welcome than in the warmer months. A haven for gin enthusiasts, The Gin Library at Galgorm offers guests a host of local and international spirits to choose from. Gin Bar Manager Catalin predicts Blood Orange to make it's mark this season and recommends Malfy Sicilian Blood Orange, garnished with rosemary, fresh cranberry, dehydrated orange slices and served with Fever Tree Mediterranean.
Wedding Season Is Upon Us
Speaking of seasons! Wedding season comes around annually like clockwork, albeit sending a slight fear-inducing chill up the spines of wedding guests deciding on what constitutes acceptable gifting and whether your brother's best friends girlfriend will be donning the same midi floral number. However, I digress. If wedding fever has got to you, you won't want to miss the Summer Bridal Open Evening taking place Wednesday 27th June from. Couples are invited to view our idyllic surroundings and luxurious suites decorated to inspire you for the journey ahead. With a team of experienced Wedding Planners on hand to answer any query big or small, you can allow your imagination to run wild as you visualise your dream wedding day at Galgorm Resort & Spa. Register here for exclusive updates.
Summer Skin Saviour
Whether you're a bride-to-be or simply crave that familiar summer glow, this transitional period is the time to show a little kindness to your skin. After all, they say you should switch up your skincare in line with the seasons and after months of exposure to the harsh elements, not to mention central heating, skin can be left dull and gasping for a new lease of life. Facials are a fantastic place to begin. Not only will you leave feeling relaxed, pampered and suitably zen, your skin will thank you for it. Facial massage techniques aid blood circulation, quench parched skin and remove dead skin cells, subsequently aiding skin cell renewal. Whatever your skin concerns, our experienced spa therapists offer a personalised facial tailored specifically to your requirements. After all, no two individuals are the time. An expert skin consultation will determine your true skin type, enabling your therapist to select your ideal skincare range to leave your complexion rebalanced and simply glowing. Enjoy 25% off facials every Friday.
The Number One Region To Visit in 2018
They often say that far away fields look green, but luckily for us, Northern Ireland offers spectacular views and scenic sights to behold, merely a stone's throw away. There has never been a better time to plan a Summer staycation, with Belfast and the Causeway Coast recently named the world's best region to visit in 2018 by the Lonely Planet (aka the unofficial authority on travel). Pay homage to the breathtaking beauty of the North Coast, or immerse yourself in the Game of Thrones filming locations dotted around Northern Ireland. Based 30 minutes from Belfast, Galgorm Resort & Spa offers a luxurious base to rest your head, indulge the senses and immerse yourself in a spot of relaxation come the end of a busy day filled with adventure. A One Night Summer Escape suits the thrill-seeker and zen-seeker alike, with an overnight stay, access to the Thermal Village and Serenity Garden as well as a three-course evening meal in the jovial surroundings of the Bar + Grill at Gillies or the charming Fratelli Ristorante. Book your Summer staycation now from £220 for two guests.
However you choose to spend your time at Galgorm Resort & Spa, snap your experience and share with us on Instagram or Twitter with the hashtag #GalgormGems and we will feature the best on our Instagram!