Blog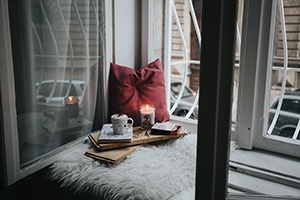 Spa at Home | Your Wellbeing Toolkit
04 February 2021
The New Year is well and truly upon us and while naturally it can be tempting to throw ourselves into new resolutions, routines and the promoise of reducing our screentime (anyone else?), oftentimes we set ourselves up for failure with the sheer pressure of it all. If the last twelve months have taught us anything, it's that resilience is key and wellbeing is more than just a buzzword.
Our homes have become multidisciplinary spaces; an office Monday to Friday, a restaurant Saturday evenings and general living quarters the remainder of the time. It's important that we find ways to differentiate work from rest, homeschooling from quality family time and what better way to do so than by bringing a little zen into your home. While we can't visit our favourite spas at present, there are ways to bring the tranquil surrounds into your home with our guide to your wellbeing toolkit.
Preparation is key, which is why we have compiled a list of items and a step-by-step guide that will ensure you can enjoy maximum relaxation as you bring the spa into your home.
Oil burner with Aromatherapy Associates Relax Room Fragrance
Open fire or plenty of candles lit around the room
Your favourite movie
Some cosy pyjamas or lounge wear
Some finger foods like fruit or indulgent chocolate
Calming spa music (find this on YouTube or Spotify)
Fresh bed linen
Cosy throw for the sofa for relaxing after your bath
Let's get started by turning off your phone or tablet or at the very least switching to silent. Pop on the spa music and light a candle to allow for a tranquil environment. Time to run that bath and select the aromatherapy essential oil that best fits your mood. Aromatherapy Associates absolutely have this covered with a range of oils suited to exactly how you're feeling. Choose from:
Destress Mind - Unhook your mind from the daily overload with the intensely concentrated aromatherapy oils in the Aromatherapy Associates De-Stress Mind Bath & Shower Oil. The 100% natural formulation contains a calming blend of ethically sourced, sweet, woody Frankincense, Petitgrain and clarity restoring Wild Camomile from Roman and English fields. Breathe and sleep more easily.
Light Relax - Stop for a moment to relax in the gently restful aromas of Light Relax Bath & Shower Oil. Blending the finest high-altitude grown Lavender, prized Ylang Ylang and nurturing wood notes of Petitgrain, it eases away thoughts of hectic days, so you emerge tranquil, calm and restored
Deep Relax – Aromatherapy Associates best-selling, multi award-winning sleep formula is hand-crafted with a unique and therapeutic essential oil complex — grounding Vetivert, soothing Camomile and calming Sandalwood promote restful and deeper sleep.
If you can, try some box breathing or square breathing as it is sometimes known. This powerful stress reliever involves simple deep breathing techniques that will help you to re-center and reep the benefits of your chosen bath oil. Now is the perfect opportunity to indulge in the rituals we often dismiss, so why not add a face mask and or hair conditioning treatment. Let the soothing hydrotherapy effects of a warm bath soothe your joints while the stresses of the day float away!
Time to get cosy and relax! Try some light stretching and mindfulness to wind down ahead of bed time. If you're new to the idea of mindfulness there are plenty of apps that offer guided mindfulness meditation practices to help you to switch off and enjoy being in the present moment. Now you're set up for your best night's sleep yet!
Bringing the essence of The Spa at Galgorm to your home has never been easier. Shop your spa favourites online now and prepare to experience the ultimate in relaxation.