Blog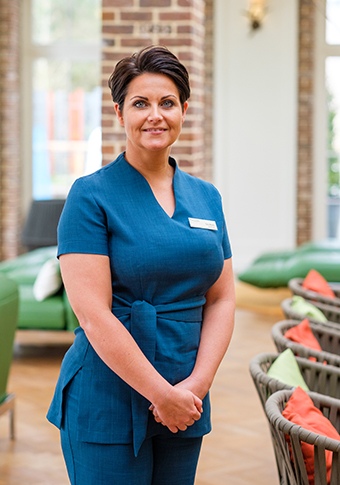 Winter Skincare Tips
16 October 2019
As the days get shorter and the winds get chillier, we asked Tara Moore, Head of Spa Operations at the Resort, to share her three top tips for caring for your skin during the Winter months.
It's time to wrap yourself up and get ready for winter, but how do we protect our skin from the cold chills and harsh winds? Here are my top tips to keep you glowing throughout the winter months to ensure your skin is Spring ready for those warming first glimpses of Sun…..
Cleanse – With the elements taking their toll, avoid using soap-based cleansers which will dehydrate your skin further. Using a creamy textured cleanser will ensure that your skin stays as hydrated as possible during those cosy days spent on the sofa with an open fire. I love to use Aromatherapy Associates Soothing Cleansing Balm to reduce redness and calm irritation, and SkinCeuticals Gentle Cleanser to ensure my skin is well cleansed whilst retaining moisture.
Exfoliate – We shed dead skin cells daily and we need a helping hand to ensure our living skin gets to shine through! You don't need to scrub your skin to within an inch of it's life to remove those cells, I use Aromatherapy Associates Rose Exfoliating Cleanser to gently remove impurities and polish my skin. I follow this up with SkinCeuticals Retexturing Activator, a dual functioning serum that leaves my skin smooth and supple, and a little of this product really goes a long way.
Moisturise – Help to keep the moisture locked in by using key products best suited for your skin type, and layer products onto your skin to get the optimum benefits. Bedtime is important as this gives your skin time to fully absorb the products and reap the benefits of the nutrients they contain whilst you rest. To complete my night time skincare routine, I apply one or two pumps of Aromatherapy Associates Hydrating Face Oil to my face and neck using my fingertips; then apply a few drops of SkinCeuticals Hydrating B5. This serum is ideal for all skin types, using hyaluronic acid to lock in moisture when your skin needs it most.
My top skincare tip is always to keep drinking lots of water, especially throughout the Winter months. it's harder to do this when the weather is cool, so perhaps try some boiled water with lemon or some herbal teas, this means you are still getting the hydration but warming yourself up after that cold walk home from work!