Blog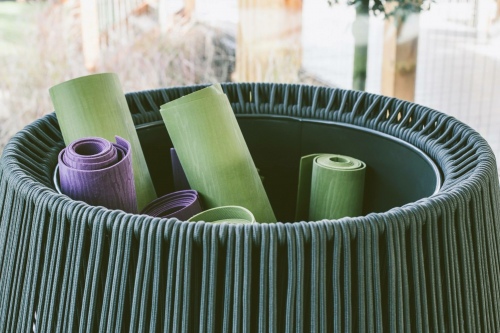 Mindful Meetings
18 November 2019
Mindfulness is a mental state achieved by focusing one's awareness on the present moment, while calmly acknowledging one's feelings and thoughts. Mindfulness means that your mind is fully attending to what is happening and what you're doing, being fully present and aware.
Introducing Mindful Meetings…
If you host a corporate meeting or event at Galgorm Spa & Golf Resort, you will now have the opportunity to create a Mindful Meeting for your delegates. Mindful Meetings promote the wellbeing of your colleagues, allowing them the ability to fully engage and learn from your event.
Choose one of our inspiring venues to host in, then tailor your own Mindful Meeting Programme by incorporating a selection of the following experiences…
Nourish – Wellbeing Water & Antioxidant Tea Selection to encourage regular hydration; and Food to Nourish the Body & Brain with creative healthy menu options using ingredients known to keep you energised and focused.
Move – Movement Breakout Sessions, choose from a pre or post-meeting energising exercise class, a guided walk or run with a Galgorm PT, private yoga & pilates classes, and a 15 minute walk through the grounds with a map to plan your route.
Breathe – Introduce mindful breathing techniques to calm the mind & body, through video, wellbeing cards & Aromatherapy Associates rollerballs for your delegates. Indulge in post-meeting spa treatments designed to destress, relax & revive. Refresh towels can be available at all breaks, infused with oils designed to energise.
Immerse – Encourage your delegates to participate in a Digital Detox, by turning off their phones and engaging with their colleagues during breakout sessions. Install a pop-up Aromatherapy Associates Scent Station during breakout sessions to learn how to incorporate Aromatherapy into your daily routine to help deal with stress, anxiety and sleep issues. Your delegates can be prescribed their own personalised "Mood Medicine" Blend to continue their wellbeing journey at home. Offer your delegates the opportunity to really switch off with their choice of a Destress, Revive or Relax mini-treatment with our Pop-Up Spa. Encourage your delegates to reconnect with nature with a guided forage through the grounds of the Resort, with a food, drink or spa Foraging Experience. If your delegates are spending the night at the Resort, a Bath Butler service, complete with a destressing in-room gift, is available for their guestroom, to continue the relaxation post-meeting.
A tailored Mindful Meeting at Galgorm will ensure your delegates get maximum benefit from your event, with a truly memorable experience. Contact our dedicated Events Team to begin crafting your Mindful Meeting events@galgorm.com