Blog
Stationery
Wedding Stationery | Ask The Expert - Darling Stationery
our Wedding Invitation is the first impression you are giving your guests ahead of your big day…
Noleen Toal from Darling Stationery has answered some of the most frequently asked questions couples have when choosing stationery.


When do I need to book my Stationery?
As every bride and groom are fast finding out when planning a wedding, the earlier you book the better chance you have of getting who and what you want.
We would recommend booking in your date with us about a year before your wedding, then about 9-6 months before your big day come and see us for a consultation to discuss and design your stationery.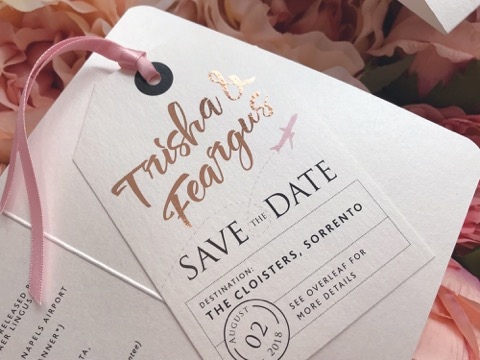 Do I need to send save the dates?
Save the dates are fast becoming the norm as they give your guests plenty of time to plan for your wedding, particularly as we all now lead such busy social lives. It is vital to let people know your date and venue as soon as possible so they can book it into their calendars and also potentially book a room in the hotel you choose to host your wedding.

For those marrying local, we would typically recommend sending your save the dates anywhere between 6-9 months prior to your wedding. If you're planning a destination wedding abroad, we would recommend sending save the dates a full 12 months in advance, to ensure accommodation and flights can be arranged.


Should I include the bridesmaids colour in my invitation?
We get asked this on a weekly basis and the answer is it's totally up to you. Traditionally the bridesmaids colour was kept as a top secret by all of the bridal party, only to be revealed when walking down the aisle. However, we are finding more and more, especially with modern designs that colour in the wedding invitation can be the start of your wedding storyboard, with your wedding invitation being the first hint of what you have planned for your big day!


What type of invitation should I go for?
There are so many styles, shape and designs out there that it can be overwhelming, making it tricky to choose, however, we would recommend booking a consultation to view the different invitations we have available and more importantly to discuss what you actually need from an invite. Being able to see and feel the quality of the invitation can make your decision very simple, as we all know the internet can be misleading with quality & design of invitations, so it is always better to physically see for yourself.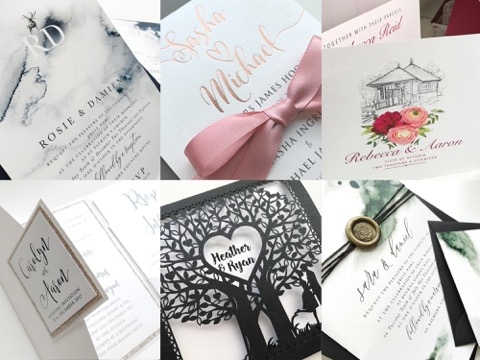 Flat Card Invitation
5 x 7 single flat card or A5 flat card, can be any design you imagine, there are no limitations on this style in regards to colour or design. It's also very cost effective and can be mounted on extra card to give it extra quality & thickness. You also have the option to add an RSVP & Info card if you wish and tie it together with a ribbon or a wrap around.
Foiled Invitation
What can I say about foil! We just love it!
Adding a touch of class to any invite, especially when you foil the bride & grooms names or initials. With foiling available in almost every colour, rose gold remaining a firm favourite, it's just stunning and is guaranteed to wow your guests!
3 Fold Invitation
A 3 fold can come in various sizes and designs - it has 6 panels for you place all the information you need to pass onto your guests, including the rsvp postcard which can be cut off and returned via post along with space for your order of the day & info etc.
Pocket Invitation
These are always a reliable favourite and can come in various shapes and colours, they also include a rsvp & info card and can be finished with glitter, jewel or wax seals.
Laser-cut Invitation
Perfectly delicate laser cut designs come in various folded & pocket styles & colours, the perfect detail to compliment any wedding theme.
Don't forget that everything we design follows through to Order of Services, table plans, place cards, table names, menus etc, meaning all the stationery items you require will match your invitation.

We are so excited about Wax Seals!
Wax seals have made a huge comeback and we are so excited about all the new designs and colours available, mixing a traditional seal with a modern design has simply stunning results.
Whatever you decide for your stationery, let the professionals take all the stress out of your hands so that you have more time to enjoy the planning of your Wedding Day.