Blog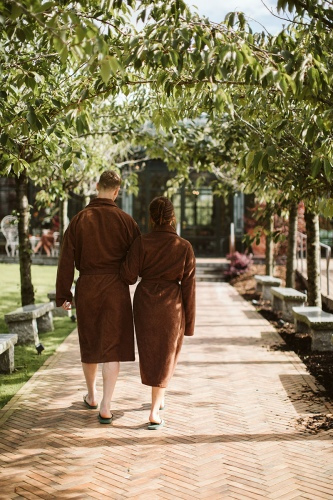 An Escape Beckons | Autumn at Galgorm
17 August 2021
As a kaleidoscope of colour descends upon the Resort, the distinct chill in the air making its return and the fiery sunsets of Autumn put on a show, it's time to fill your Autumn diary with the promise of an escape from the everyday. After all, who said spontaneous trips are the reserve of Summer? Say hello to Autumn, where an escape beckons…
If there's one positive we can all take from the tumultuous year that was 2020, it's a renewed appreciation of nature and all its sublime surroundings. Northern Ireland is home to superb natural heritage, remarkable cultural treasures, outdoor activities in abundance and one of the world's great coastal road trips – the Causeway Coastal Route. This Autumn make Galgorm your base from which to explore some of our most well-known attractions and scenic sights; forest paths shrouded in copper tones, the satisfying crunch of leaves underfoot and the giant spirit of Belfast city a mere 30 minute drive away. Return from your adventure to an environment of unsurpassed luxury with accommodation to suit every getaway, cosy bars, eclectic restaurants and the award-winning Thermal Spa Village.
The Northern Ireland food scene has flourished in recent years and is a bon a fide foodie destination in its own right. It's not surprising when you learn that over 75% of our countryside is used for some form of agriculture. Champions of local produce, The River Room restaurant is the destination to escape for a romantic meal for two with a Tasting Menu that places seasonality and provenance at the core of their offering. Head Chef Chris Rees and his team create memorable dining experiences that you will savour for years to come. Home to an impressive Wine Cellar of over 500 labels from around the world, elevate your evening with a Wine Flight for a truly unique dining experience.
The tranquil sounds of the countryside and babbling River Maine set the scene for a break from reality. Relax, unwind and ease away the stress of the day with Galgorm's selection of private residences with hot tubs perfect for your next short break. Fulfil those dreams of a Northern Ireland staycation this Autumn and escape with friends and family to your private home-from-home, made for overdue catch-ups and celebrating life's special occasions. Choose Charles Lanyon Gate Lodge, the newest addition to the Resort that sleeps up to 10 guests and offers countryside views for a truly unique retreat. With an expanse of gardens, eclectic furnishings, BBQ facilities and open plan kitchen for entertaining, Charles Lanyon Gate Lodge will be the top of your bucket list for unique accommodation options this Autumn.
Think of Autumn as your opportune moment to prepare for the harsh elements of winter. It is your chance to replenish and ensure you are doing everything you can to prepare for the chillier months; after all, Summer and the associated rays can be particularly tough on skin and even the most regiment of SPF aficionados. Whether you have your skincare routine nailed, or you need a little guidance on products, a trip to The Skin Clinic will reveal what's going on in those deeper layers of skin with the help of the revolutionary Skin Scanner. Make a day of it with our Tailored To You Day Spa Experience designed to help you achieve that sought-after glow with a 60 minute IMAGE Facial, Thermal Spa Village relaxation, lunch in Elements and IMAGE travel kit to continue your skincare journey at home. The Tailored Facial is a clinical results-driven facial designed to give you beautifully lifted, firmer and deep cleansed skin using a blend of powerful antioxidant protection, nutrition, enzymes and stem cells all sandwiched together to provide immediate measurable differences – the perfect option for those looking to indulge in some Autumn me-time.
Spend quality time with family this Autumn and make Galgorm your escape with restaurant options to suit every taste. Family-friendly Fratelli serves oozes rustic Italian charm with a focus on simple yet quality cooking in a relaxed environment. Escape from the kitchen and swap dinnertime chaos for creativity as the kids play chef with our build your own pizza Little Boars experience. For the adults, menus boast authentic Italian cicchetti perfect for sharing, fresh local seafood and meat, alongside the Italian classics we love; mouth-watering pizza, pasta and not to mention tempting mini desserts. Buon appetite!
As the seasons begin to change, there's never been a better time to fulfil those dreams of a Northern Ireland staycation, or simply a well-deserved getaway with a loved one. Whatever the occasion, escape to Galgorm for an experience like no other.