Blog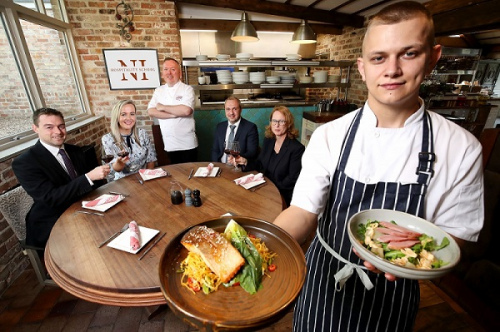 Aspiring chefs to step up to the plate with launch of new NI Chef Academy
15 August 2022
Aspiring chefs to step up to the plate with launch of new NI Chef Academy
NI Hospitality School extends partnership with three of the region's top hotels to facilitate new training academy with guaranteed employment for six newly qualified chefs.
Aspiring chefs are being called to step up to the plate and enroll on a brand new training course, launched today by the Northern Ireland Hospitality School, offering students the chance to gain a chef qualification and secure guaranteed employment with one of Northern Ireland's top hotels.
The brand new Chef Academy will see six successful candidates selected to undertake a year-long scholarship delivered through on-the-job training at one of Northern Ireland's top hotels; Adair Arms Hotel, Galgorm Resort or Tullyglass House Hotel, where they will ultimately secure guaranteed employment.
Successful candidates will gain a nationally recognised qualification (FDQ Level 2 Diploma in Professional Chef - Northern Ireland), delivered by training partner South Eastern Regional College (SERC). The course involves not just classroom learning, but on the job training with our highly skilled kitchen brigade as well as unique experiences with our local food producers.
Representing an investment in year one of nearly £250,000 the new academy aims to recruit six locally based chef apprentices for its first intake in September, with applications now open.
The announcement follows the launch of the Northern Ireland Hospitality School last April, part funded by Ballymena-based charity The Gallaher Trust. To date, the school has already supported 24 students in gaining full-time employment with partnering hotels through its dedicated Bar Academy.
The launch of its new Chef Academy is the latest development in the school's ambitious plans to support the hospitality sector locally and provide a pathway to employment for those seeking a career in the industry. Each year, the NI Hospitality School aims to facilitate employment for six chefs and 24 bartenders in a £685,000 annual investment, providing a significant boost to local employment.