Blog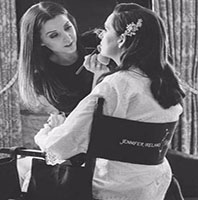 Jennifer Ireland's Guide To Wedding Skincare | #GalgormInspiration
05 December 2016
Beautiful makeup begins with beautiful skin. Think of your skin care as the Spanx under your slinky dress – it makes all the difference! And it's never too late to start; whether you have a year or 4 weeks, a little TLC goes a long way!
Most brides jump straight into booking salon facials, and yes, while they are fantastic, they must be complimented at home with daily cleansing and moisturising. Firstly suss out what you skin needs; is it dry, red or easily irritated? Is it lacking a healthy glow? Do you get breakouts or oiliness? Once you've figured out your concerns, then you can begin to treat them.
The most important thing you can do is remove make-up in the evening. Your body heals and repairs overnight, so give your skin a helping hand by cleansing off the days' dirt, and allowing it to breathe. I'm a big fan of balm or oil cleansers. They are quite rich so may be a little scary to someone with oily skin, but they purify and hydrate. They will dissolve makeup, and really work into the pores. If removed with a clean, damp face cloth, you'll also get a gentle exfoliation too. I like Voya, Totally Balmy Cleansing Balm, or Nude, Perfect Cleanse Nourishing Oil.
All skin types will benefit from exfoliation. Removing dead skin cells allows the fresh young cells to come through giving you a more glowing complexion. Make-up sits more smoothly on buffed skin and scars and wrinkles are reduced in appearance. I'm a huge fan of acid based exfoliators as opposed to scrubs. They are less aggressive but more effective. Masks such as Ren Glyco Lactic Radiance Renewal Mask is fantastic, or for a quick fix, try Pixi Glow Peel Pads.
For breakouts, the main thing you want to do is calm and purify. As tempting as it is (and we're all guilty of it) DO NOT squeeze or pick! Try something like Caudalie Instant Detox Mask, or Payot Pati Grise Overnight Spot Treatment.
After you've cleansed and treated, it's time to nourish. Treat your skin overnight with a healing and repairing serum or moisturiser – complete personal preference as to the texture you'd prefer to use on your skin! I'm a fan of Aromatherapy Associates Revitalizing Facial Oil, or Voya, My Little Hero Facial Serum.
Buy what you can afford but most importantly, keep up the routine!