Blog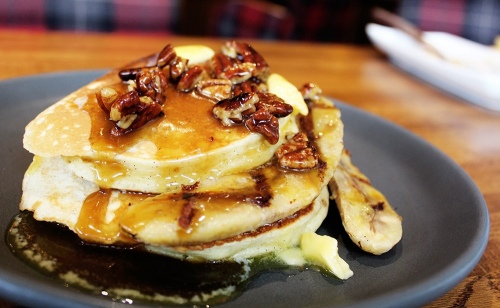 Pancakes | Recipe
13 February 2018
Pancakes (Serves 4)
What you will need:
- 135g self-raising flour
- 1 large egg
- 1/2 teaspoon salt
- 2 tablespoons caster sugar
- 130ml milk
- 2 tablespoons melted butter or olive oil, plus extra for cooking
- 1 teaspoon baking powder
Method
1. Whisk milk and egg together then whisk in the melted butter
2. Sift flour, salt, caster sugar and baking powder into a bowl
3. Add the milk and egg to the flour mixture and beat using a fork until smooth. Let the batter stand for a few minutes
4. Heat a non-stick pan or griddle with a knob of butter or oil.
5. When this is at medium heat, ladle ¼ cupful onto the pan
6 Wait bubble (around 2/3 minutes) then flip the pancake
7. Cook until both sides are golden
Toppings Suggestions
Crushed Hazelnut and Banana
Blueberries and Strawberries
Bacon and Maple Syrup
Lemon and Sugar