Blog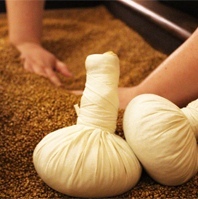 Quartz, Poultice & Singing Bowls - Demystifying the Quartz Bed
04 April 2017
As a digital marketer, the majority of my working days are spent behind a luminous screen scouring the internet. A fairly hazard-free role you could say, and to some extent would be correct. However, it is not entirely without its repercussions (and I'm not talking about the flurry of dog memes all vying for my attention in any one afternoon). Bad posture and neck strain come part and parcel of desk-based roles. An early morning stretch and limber up for the day ahead regularly results in the sort of cracks less akin to that of someone in their early twenties. That was of course until a friend had suggested a massage. Really? I thought to myself. It all seemed a little self-indulgent and perhaps not something I truly needed or could justify treating myself to for that matter. After some persuasion (quite frankly, not a lot), I stand corrected. My name is Catherine and I am a Spa convert.
Enter the MLX Quartz Treatment Bed. "What's that?" I hear you proclaim. Much like myself, when I was introduced to the concept, I was instinctively intrigued by this term that my colleagues had spoken so highly of. Derived from the Greek concept of psammo therapy, or hot sand therapy, the MLX Quartz is the modern take on a century-old approach to delivering the utmost in physical and holistic relaxation.
As it's eponymously named component would suggest, Quartz beds are something of a luxury; a rare and restorative highway to relaxation. So with this in mind, once I had made my decision to book in for a full body massage, I knew I had to experience first hand for myself, just how truly special such treatments are. After all, Galgorm proudly house the first MLX Quartz Bed on the island of Ireland!
Fast Forward to Tuesday…
Having completed my pre-treatment questionnaire and feeling refreshed following a lemon & ginger tea (made all the sweeter by the accompaniment of two luxurious truffles), I was soon introduced to my Therapist. Now, as a self-confessed spa amateur, I can't help but confess to being somewhat apprehensive of the treatment. Oh, how wrong I was! Upon meeting my Spa Therapist, the wonderful Zoe, any preconceived ideas of awkwardness were swiftly dispelled.
Upon entering the treatment room I was firstly amazed by the treatment table which houses the alpha quartz sand. Instantly I knew this would be something of a luxury and with the scent of essential oils in the air, instant relaxation ensued. A quick chat with Zoe revealed the format of the treatment which would include singing bowls and poultice. Stay with me on this one…
Now, you may be wondering how comfortable laying on a bed of quartz sand can be and I am here to confirm that it is truly a dream. Once laying upon the protective polyurethane layer the warmth of the hot sand instantly relaxes as your therapist intricately moulds the quartz sand around your body in order to support the contours of your body. In my cosy, relaxed state I was immediately transported to a warmer climate, cocooned on a warm sandy beach (albeit minus the factor 50). If this state of relaxation was only the beginning I was surely in for a treat.
Om-Believable
As a firm believer in the powers of meditation in mindfulness, I was pleasantly surprised to learn that the treatment incorporated elements throughout with the introduction of two singing bowls. An odd sensation to begin with; once placed on my back Zoe struck the bowls, instantaneously sending vibrations throughout my spine as well as the room, with a sensation quite unlike anything I had previously experienced. This signified the beginning of the treatment and proved the perfect precursor to ensure I was in the utmost relaxed of states. At this point I couldn't help but contemplate how dubious I had been before arriving for my treatment, this was exactly the respite from everyday life that we all require from time to time - and with that thought, the massage began.
Utilising the most luxurious of oils, Zoe began the massage with her hands before introducing the heated Poultice which sets this treatment apart from it's traditional massage counterparts. The two poultice or 'stemps' as they are sometimes referred to contained quartz sand, kept in place with cloth and heated to the desired temperature. The sensation from heated poultice alleviating knots and soothing muscular pain was nothing short of restorative. With this tranquil combination of cocooned warmth achieved from the bed, targeted relief from the poultice and the calming practice of massage techniques, it was a particularly mean feat to stay awake. The journey of relaxation continued as the treatment progressed from top to toe, before maneuvering to repeat the techniques on my front. The experience then concluded with a repositioning of the bed to a zero gravity position to facilitate the scalp massage, evoking a deep state of relaxation - as though I could have been any more at ease with the world.
Slowly and with as much grace as could be expected from my dream-like hazy state, once the treatment had concluded, I was greeted with fresh towels and an ice cold glass of water before chatting to my therapist who informed me that my suspicions were correct and my shoulders housed a plethora of tension - who knew! Having just spent 90 minutes in heated environment, I was advised to drink as much water as possible to stay hydrated throughout the evening. Guided to the relaxation area of The Spa at Galgorm and feeling as though I could take on the world, the icy delights continued with a refreshing sorbet to round off my mid-week escapism.
If the thought of this serene treatment intrigues you, book yours now;

- 90 Minute Signature Ritual - £125 Midweek / £140 Weekends
- 60 Minute Back Therapy - £90 Midweek / £95 Weekends