Blog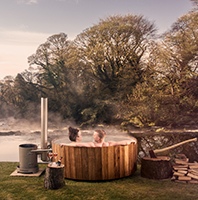 Rediscover Autumn | Things To Do
06 October 2017
The sun may have set on the free-spirited summer months but Autumn is never one to catch us by surprise. The arrival of rustic tones lines the path with thanks to the trees shedding their wares. The scent of embers encompasses the transitioning of the seasons, making way for the shorter evenings and long-drawn mornings. We aren't one to mourn the loss of summer, not when there are 163 acres of beautiful parkland showcasing a kaleidoscope of colours. Call us biased, but there is something incredibly beautiful about Autumn in Ireland.
The great outdoors
I'm not sure about you, but once the thought of outdoor bathing comes to mind, so too do connotations of sun-drenched, temperate, 30-something degree weather - Aperol spritz optional. While there's no denying the unadulterated bliss of a cool dip in the pool is difficult to top, we implore you to give our renowned Riverside Bathing Experience a go. Perched on the banks of the River Maine with an unmistakably scenic woodland backdrop, an hour in one of Galgorm's eco-friendly wood-fired tubs is simply blissful, with the delicate chill in the air nipping at your face; a haven of ataraxia.
Tea with a view
One of our favourite past times to indulge in year-round is Afternoon Tea. While the tradition has a resurgence in recent times, the tea-related ritual has remained untouched, preserving its indulgent nature. The early evening twilight haze is a spectacle to marvel upon, particularly with panoramic views of the river provided by The Conservatory. Those who prefer their 'tea' a little stronger can upgrade their experience to Gin Afternoon Tea - all the elements you adore with two gin cocktails, priced at £34.95pp.
Settle in with a gin
If you haven't guessed yet, we're partial to a gin at Galgorm Resort & Spa and firmly believe that gin needn't be reserved for the summer months. A few simple tweaks are all it takes to transition your libation of choice with the season. Bar Manager Matthew recommends County Down based Shortcross Gin, garnished with orange and mint and served with none other than Thomas Henry Tonic.
However you choose to spend your Autumn Escape at Galgorm Resort & Spa, we would love to see your photos! Don't forget to tag us @GalgormResort #ByTheRiver on Twitter & Instagram.