Blog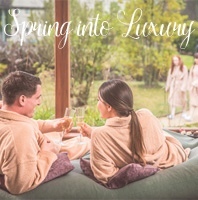 Spring Into Luxury | Things To Do
08 February 2017
Spring has almost sprung at Galgorm Resort & Spa, with it's subtle appearance at every corner. Little by little green replaces brown and the once barren branches begin flourishing to their full potential, echoing a resurgence quite unlike any other season.
We welcome this change in season with open arms, not merely because we can finally shed an extra layer of insulation. The thought of balmier evenings lay ahead, bringing with it dreams of traipsing around the Thermal Village with everyday stress reduced to which pool to dip into next.
To celebrate the much-anticipated arrival, we have put together your definitive guide to springtime at Galgorm Resort & Spa.
Spring Sensation
You could be forgiven for mistaking the Thermal Village as a spring haven. Bursting with beautiful foliage year-round, Carmel our green-fingered Spa Gardener (do titles get much better?) is particularly excited for the thousands of daffodils, crocus and tulips that were planted last Autumn, to bloom for the first time. You can be sure they will be in great company, complementing the perennial aquilegia in the Thermal Village. Enjoy the splendor of the Thermal Village and refresh and revitalise for Spring in the most relaxing of ways with the Spring Sensation package from only £69pp.
Springtime Gin-time
While we could happily enjoy a G&T year-round, a delicately refreshing gin encompasses Springtime like no other. Our resident Gin connoisseur or 'ginnoisseur' Matthew recommends the intriguing Nordés Atlantic Galician Gin accompanied by none other than Fever-tree Mediterranean. Served with red and white grapes and edible viola flowers, the bold, floral flavour profile will transport you to the spirit's eponymous origins.
Savour A Taste Of Spring
Almost as anticipated as the idea of sunnier times is the arrival of our seasonal Afternoon Tea Menus. Having become somewhat renowned for providing guests a taste of what's in season, Head Pastry Chef Lynsey has curated a foodies dream with delicate treats and mini desserts accented beautifully with the fruits of the season. Vanilla panna cotta with poached rhubarb and ginger crumble and zingy lemon and almond tart are just a few of the delights awaiting. Whatever your cup of tea, we have a blend for every palate. Lulu's Garden from Mr.Jones' tea is our top pick for pairing the flavours of Afternoon Tea with the delicate floral blend of black tea with lychee blossom.
If Golf Is More Your Cup Of Tee
If Winter has left you feeling a little under parr, get back into the swing of things with a round of golf on our 9 Hole Pitch & Putt and fear not! If things don't go your way, you can simply return to the Spa to relieve the stress of those missed putts.
So if it's perfect pauses, an escape from the madness of everyday life, or simply a well-deserved treat, say hello to Spring at Northern Ireland's Hotel of the Year (and be sure to Tweet or Instagram your enviable snaps to @GalgormResort)