Blog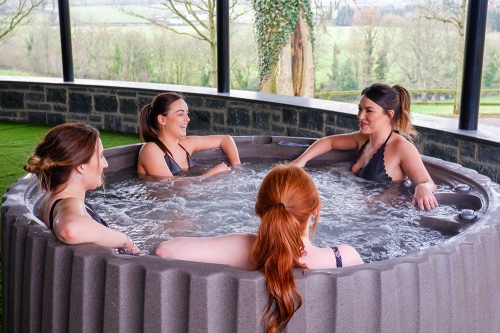 Unlock New Experiences | Accommodation with Hot Tubs
29 June 2020
Nothing screams luxury quite like checking in to a hotel to find your accommodation comes with it's very own private hot tub.
The tranquil sounds of the countryside and babbling River Maine set the scene for a break from reality. Relax, unwind and ease away the stress of the day with Galgorm's selection of Log Cabins, lodges and private residence with hot tubs perfect for your next short break.
Planning your next short break is full of excitement. Never more so than now following months spent getting to know every nook of our homes, while wistfully dreaming of holidays gone by with a lust for adventure and the anticipated countdown to your next check-in. Now is the time to fulfil those dreams of a Northern Ireland staycation with reassurance and our commitment that your safety is of top priority as we navigate relaxation in what we have come to know as the New Normal.
Riverside Log Cabins
Located on the serene grounds of The Resort overlooking the River Maine, our collection of spacious Riverside Log Cabins are a firm favourite for those who seek a little more privacy and independence when it comes to a getaway, making them the ideal option for a girls getaway, family beak or celebration. With all the seclusion of a countryside setting, yet mere moments from the hustle and bustle of the Hotel, our Log Cabins allow you to enjoy your staycation at your own pace while still enjoying the facilities available throughout The Resort.
Relaxation comes as standard with your very own private hot tub located on the Terrace, complemented by the sights and sounds of the tranquil River Maine in the distance. Taking a day trip to explore some of Northern Ireland's acclaimed attractions? Private parking next to your Log Cabin allows you to hop in the car and explore all there is to offer. For inspiration on where to spend the day, contact our Guest Relations team.
Red Oaks Residence
A very big house in the country. That's one way of describing this opulent Residence, but there is much more to this hidden gem than meets the eye. Play host to your friends and family in your very own home from home, complete with everything you need (and everything you never knew you needed). Located only a stones throw from The Resort, Red Oaks Residence makes for the perfect accommodation option if privacy and expanse is top priority.
Wine, dine and entertain your guests with an enviable open-plan kitchen and living space flooded with natural light and showcase your culinary flair as your Sunday Brunch dreams become a reality. Cooking not quite your cup of tea? Choose from one of four Resort restaurants and allow our skilled chefs to cook up a feast for the senses.
Galgorm Spa & Golf Resort is renowned for its picturesque setting and Red Oaks Residence is no exception. While we have come to accept the traditionally unpredictable weather, there's no need to wait for the sun to make an appearance when your private terrace offers space for entertaining and al fresco dining all year round. This roofed space includes a dining table, barbecuing area and private outdoor hot tub for a relaxing dip at any time of the day.
Deluxe Guest Rooms
First time staying with us? It's worth considering a Deluxe Guest Room as your accommodation of choice - if you know, you know! Located within the Hotel, our range of Deluxe Guest Rooms come complete with all the bells and whistles to make your Galgorm Experience one to rememberl. As with all of our guest rooms, a complimentary mini bar awaits containing a selection of soft drinks, water and our very own Galgorm wine and beer, perfect to pair with the selection of artisan treats for grazing on throughout your stay.
Beautifully proportioned with incredible views of the Thermal Spa Village our range of Deluxe guest rooms are inspired by the riverside location with warm tones, rich Rolf Benz furniture and luxurious marble bathrooms​​​​​​​. Don your robe and flip flops and make your way to the Thermal Spa Village for relaxation from check-in until 10pm. Amp up the relaxation with a private Riverside Bathing Experience included on one occasion during your stay. Need we say more?
Although it's been a while, brighter days are on the horizon and we can't wait to welcome you back to The Resort. As we adjust to new social distancing requirements, we invite you to Journey With Us as we introduce the measures we have put in place and what you can expect from your next visit.
So, what are you waiting for? Unlock new experiences at Galgorm Spa & Golf Resort.