Blog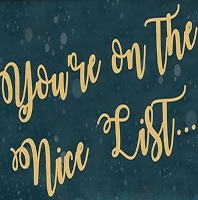 You're On My Nice List... Love, Santa | #GiftLove
02 November 2016
Red cup season has arrived and we can almost hear Bublé warming up his festive vocal chords in anticipation for the most wonderful time of the year! Oh yes, whether you like it or not, the big man is making his list and checking it twice! Fear not though, we've had a word with Santa himself and arranged a very special treat for you early shoppers…
We have all experienced gift fear at one point or another, the technical term for that feeling of disappointing our loved ones with yet another pair of novelty socks. This is where we step in! Banish the fear and guarantee gift joy with a Galgorm Gift Voucher, all while rewarding yourself. For every £100 worth of Gift Vouchers purchased before the 30th November 2016, we are giving you a FREE £10 Gift Voucher to spend. If that isn't enough, we've pulled together your ultimate Galgorm Gift Guide for 2016…
For The Luxury Lovers
Gifting can be tricky at the best of times and particularly so for those who enjoy the finer things in life. Watch their eyes light up as they receive one of our Galgorm Experience vouchers to redeem against a curated selection of experiences. Starting at £95, you can be sure you're adding a little Galgorm sparkle this gift-giving season
For The Foodie
Food is the universal language that brings people together and we only need to take Christmas time as the perfect example of this. For the foodies among us, we have designed the perfect experience voucher to substitute the traditional cookbook gifting. Whet their appetite with one of our Gourmet Wine Evening vouchers entitling them to a cava and canapé reception followed by a sumptuous five-course dinner for two with a glass of wine to accompany each course.
For The Zen Seeker
We all have that one friend that miraculously appears to have it altogether and they do so with grace and poise. How do they do it? And what IS their secret? Well truth be told we all deserve a little R&R, a touch of tranquility, an escape from the frenzy of everyday life. With one of our Spa Gift Vouchers, your loved one will experience the utmost in relaxation and wellness either with a treatment from our extensive menu or by enjoying the award-winning Thermal Village for the afternoon.
For The Ginnoisseur
"There'll be much mistletoeing and gin will be flowing…" That's how the Andy Williams classic goes, right?! For the juniper enthusiast in your life, make their Christmas dreams come true with a voucher for one of our bi-monthly Gin Evenings. Valid for two guests, this gin-ful gift entitles you to a selection of gin cocktails and samples from the distiller, matched with light bites from the 3AA Rosette River Room alongside a masterclass from a gin expert.
For The One Who Has It All
The one who has it all (and more). The arduous task often faced when we want to impress, but simply can't pin down their particular style, or perhaps you simply do not know them all that well! This is where the humble monetary gift voucher comes into play. The flexibility of a monetary voucher makes it the ultimate gift for your recipient to spend however they wish, be it a romantic getaway with a partner or simply a well earned pamper break.
Make the most of your spot on the nice list and ensure you purchase your vouchers before the 30th November to receive a free £10 voucher for every £100 worth of vouchers purchased - #GiftLoveGuaranteed.
View our range of Gift Vouchers here & let the gift-giving begin!