Blog
Cakes
The Icing On The Cake - Gemma's Cakes
The baking expert who knows a thing or two about tiers, jam & sponge and most importantly 2018 trends. This time Gemma is talking all things Cake Toppers!
Wedding Cake Toppers
So many couples ask me, should I have a cake topper? What style of cake topper goes best with my cake? What size should I get? It's all so confusing but hopefully this blog will help answer some of your questions and give you some ideas!
Having a cake topper is not something that is a necessity however it can be an inexpensive way of adding detail your cake. It's also something people like to keep as a memento from their big day or pass down their own children in years to come for that something borrowed! We have worked with couples who have been passed down the topper from their parents and want to add it to their cake which is a lovely, a personal touch!
Here are some cake toppers that are popular in 2018.
Fresh Flowers
This is my number one as it's my absolute favourite topper for a cake, not just to top the cake but even added to the sides and the cake table really brings your colours together. Most brides will set their own bouquet on the cake table and it means everything ties together beautifully!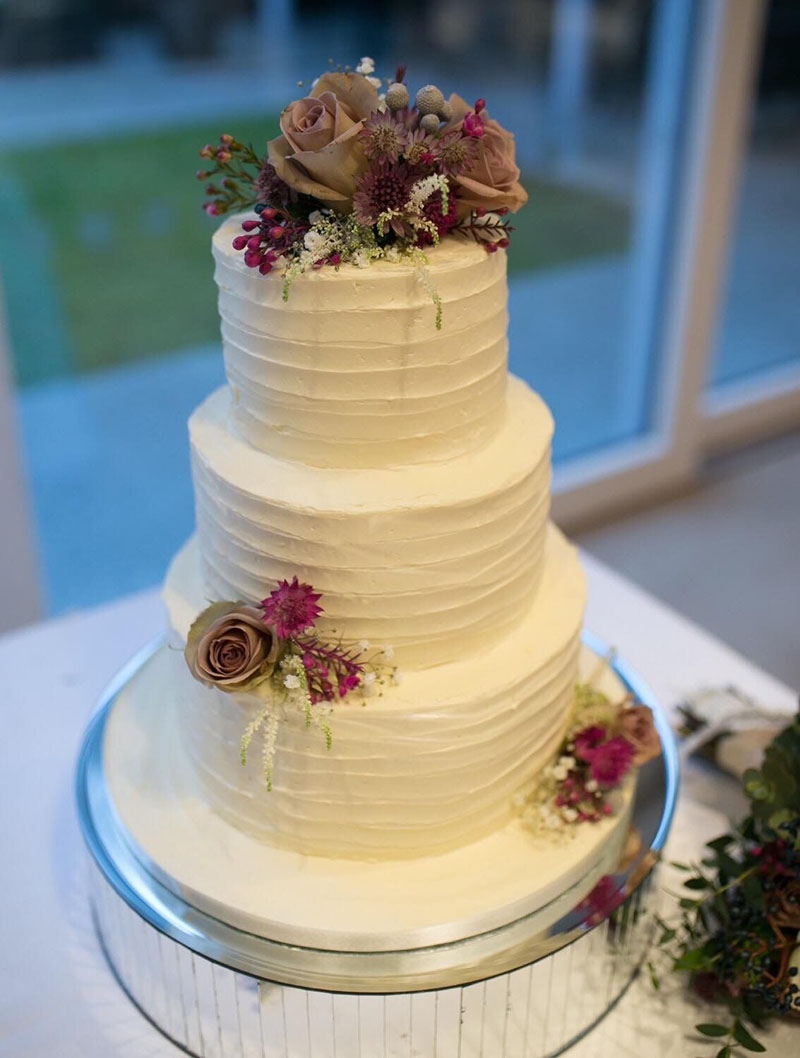 Laser Cut
This is one that quite often is used along with flowers. I do love a laser cut topper on our ever-popular buttercream style cakes, although it also goes well with a fondant cake. These can simply be "Mr & Mrs" or you can even have a personalised one made with your new surname.
Silhouettes
Silhouette toppers are becoming increasingly popular as well, they too can be personalised. People have had their children or dogs added!
Usually, these are added to a fondant cake and I think they look particularly well on a cake that has a silhouette design as well, again in keeping with your theme.
Clay Figures
The bride & groom cake topper I could liken to marmite, you either love them or you hate them!!For those of you who love them, clay toppers are a great idea as you can keep them forever and they can be personalised, for example, you could be wearing your favourite football kit, pets can be added, there are so many options. The clay figures would be one of the more expensive options to choose.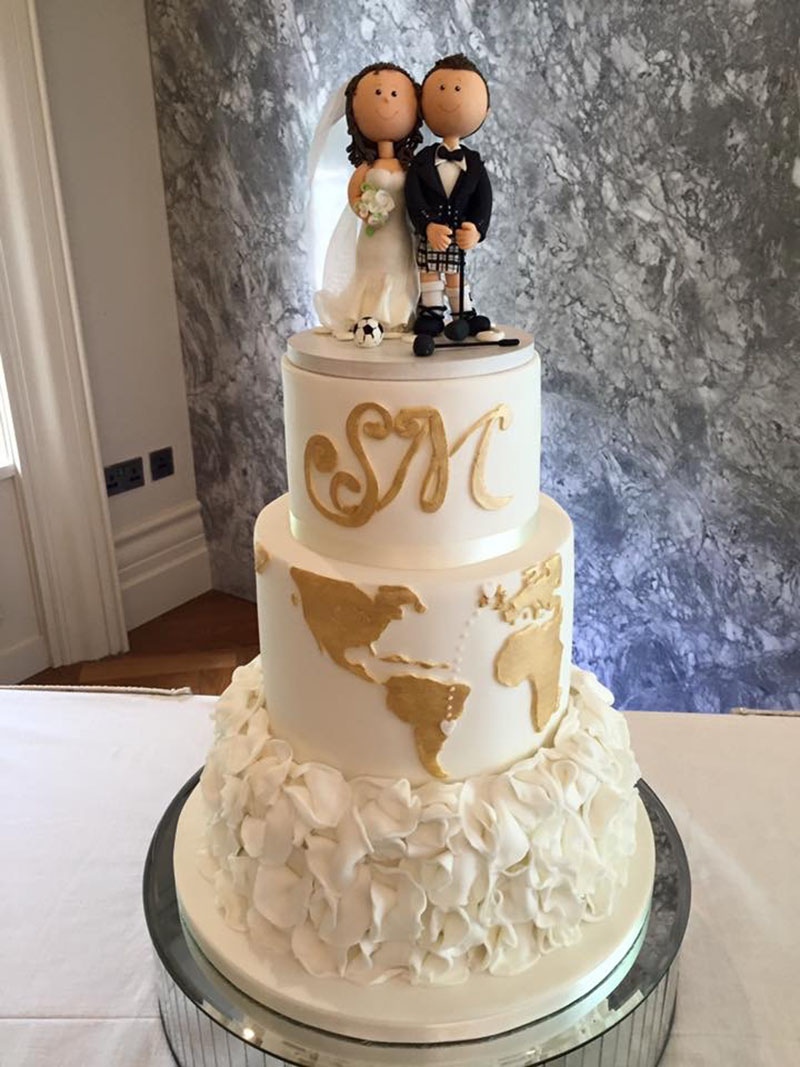 Bunting
Bunting is always lovely on a rustic design, great for naked, semi-naked or buttercream cakes. Again, some fresh fruit/flowers can be added under the topper.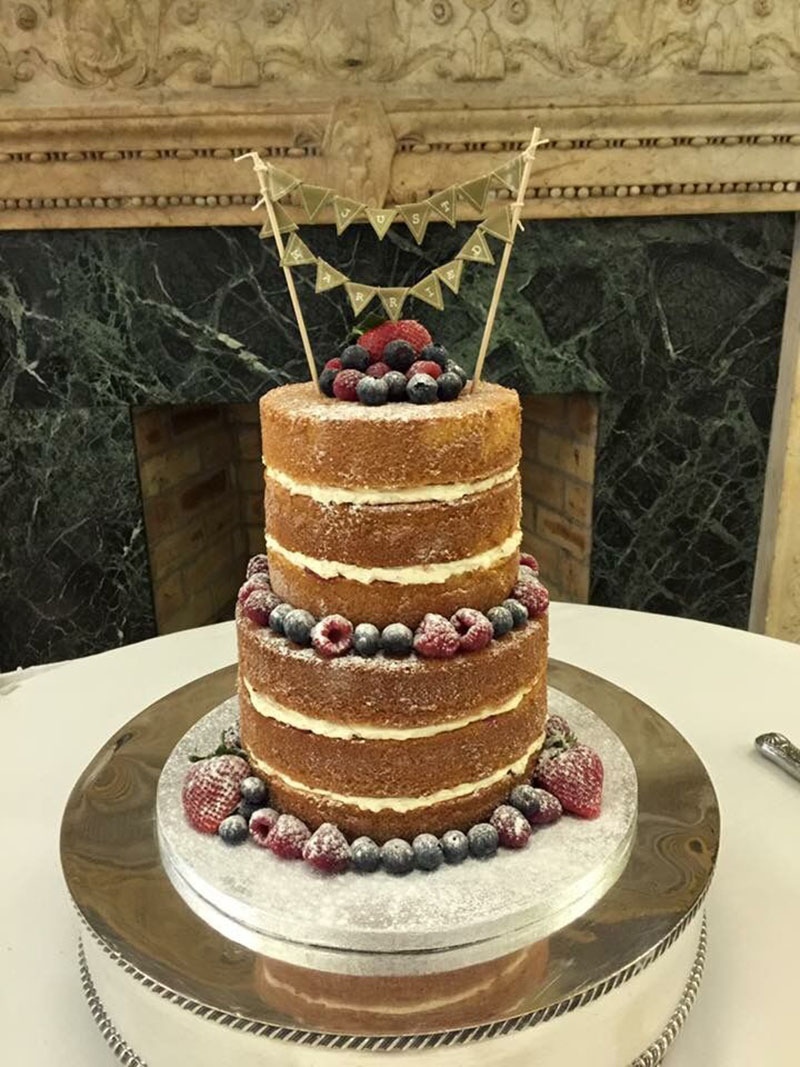 Hopefully this will help you decide what topper best suits your style.
In terms of what size of toppers to get, the best thing to do is check the size of your top tier with your cake maker. I would recommend staying within the diameter of your top tier to avoid your topper looking too big for the cake!