Blog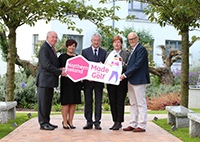 Galgorm Resort & Spa to host 21st National Golf Tourism Conference and Gala Irish Golf Awards
18 September 2018
The Ireland Golf Tour Operator Association (IGTOA), in association with Tourism NI, has announced that Northern Ireland will host the 21st National Golf Tourism Conference and 2018 Gala Irish Golf Awards in October.
The venue for the conference and awards, from 21 – 22 October, will be the Galgorm Resort & Spa in Ballymena.
The two-day event is the highlight of the Irish golf tourism calendar and brings together golf tour operators, golf club managers, golf resorts and industry professionals from across the Island of Ireland offering invaluable networking opportunities alongside an educational programme and interactive and engaging activities.
Commenting on the event taking place in Northern Ireland, John McGrillen, Chief Executive, Tourism NI said "Golf tourism is worth almost £40m per year to the local economy; an increase of 44% since 2013. In 2017 alone, more than 120,000 golfers visited Northern Ireland and they spent over £2,000 on average per trip. This represents a high level of visitor spend and it is important that we ensure this spending power is dispersed throughout the visitor economy.
By hosting such an event, it gives us a great opportunity to promote our golfing products and establish good working relationships with a wide range of golf partners. With The 148th Open, Royal Portrush, one of the oldest and most international championships in professional golf returning to Northern Ireland for the first time in 68 years, it firmly establishes Northern Ireland as a world-leading golf destination."
On the significance of moving this year's event across the border to Northern Ireland, David Hudson, Vice Chairman, IGTOA commented "The IGTOA are delighted to take the opportunity to host this year's National Golf Tourism Conference and Gala Irish Golf Awards in Northern Ireland. As the promoter of the island of Ireland as a leading international golf destination, we recognise that Northern Ireland is experiencing unprecedented success and status as a golf destination. With the arrival of The 148th Open, Royal Portrush in 2019, it seemed fitting that we should host this year's event in Northern Ireland."
As part of this year's conference 80 delegates will enjoy a unique opportunity to play golf at Royal Portrush, the course that will play host to international golfing champions when The 148th Open, Royal Portrush is held there in 2019. Wilma Erskine, Secretary-Manager, Royal Portrush welcomes the opportunity for delegates of the National Golf Tourism Conference to come to Royal Portrush and said "We are proud to play host to such a prestigious event in the golfing calendar as The 148th Open, Royal Portrush. This golf day for delegates is a fantastic opportunity for golf tour operators to witness for themselves why such a prestigious event in the golfing calendar has chosen to come to Northern Ireland and help to spread the message that Northern Ireland is a world-class golf destination."
The 21st National Golf Tourism Conference will take place on Sunday 21 October and the Golf Day at Royal Portrush Golf Club and Gala Irish Golf Awards will take place on Monday 22 October.