Blog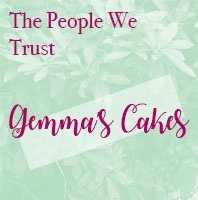 Gemma's Cakes | The People We Trust
09 February 2017
At Galgorm Resort & Spa we have secured some of the best in the business to assist in bringing your dream wedding day to life! Think of it as our little black book of suppliers, or The People We Trust as we affectionately refer to them as.
Ahead of our upcoming Afternoon with Gemma's Cakes & Sally's Floral Studio, we have caught up with the lady behind the cakes, Gemma herself, to ask her some of your burning questions. So sit back, relax (and grab some cake) as we get down to the tricky business of sponge, tiers and flavours!
Introducing Gemma…
Hi readers! I'm very excited to be sitting down to write my first blog post for Galgorm. 2016 has been a fantastic year for Gemma's Cakes and 2017 is shaping up to be an exciting time too with lots of exciting new things ahead. To get started, I would like to congratulate all you engaged couples and provide you with some tips and insight on getting your wedding cake organised for your special day! With my background as a Galgorm Wedding Planner, I have a wealth of experience in the industry and have a strong affinity with the Resort so you can rest assured you're in safe hands when it comes to the tastiest element of wedding planning.
Timing Is Everything
Now onto my advice; I know a lot of websites and magazine articles out there suggest that you book your cake at least 6 months before your wedding, however, my view is that once you have your date booked and your venue confirmed, you should go ahead and secure your date with your chosen baker. We have couples booking our services up to 2 years ahead! This is especially vital if you are having your wedding in June, July, August, September or around a holiday period e.g between Christmas and New Year, Easter, or Halloween. Availability at these times book up fast so you need to be on the ball.
The Need To Know
Firstly, book in for a consultation with the supplier so you can get to know them and taste their cake. We hold free one to one tastings regularly and there is no obligation to book. Once you have designed your cake with your supplier, get a quotation and be clear on what you are getting for your money, for example, will they deliver to the hotel on the day? How many servings of cake will you get? Should you change your mind about design this can be reworked and a new price calculated up to a few weeks before the wedding if necessary. After all, we aim to make the process as easy, stress free and enjoyable for our couples as possible.
If you don't have time for an appointment or if you live/work abroad get to know your baker via email or over the phone and check out their reviews on Facebook, Google+ and third party websites from previous couples.
Key Trends
With regards to what's trending in 2017, I would say expect to see more fabulous buttercream cakes finished with fresh flowers, effortlessly chic and elegant. Rustic Naked and Semi-Naked designs, Marble cakes, gold sequins and laser cut toppers will also be very popular and of course we all still love our lace & sugar flowers. Another trend that's definitely in the mix is Art Deco/Gatsby so expect to see a few geometric designs too!
Where To Find Gemma
Telephone - 07866808973,
Email - gemma@gemmas-cakes.co.uk
Facebook - Gemma's Cakes
Or alternatively, why not join us for "An Afternoon with Gemma's Cakes & Sally's Floral Studio" at Galgorm Resort & Spa on Sunday 26th February 2017 from 2pm-4pm in The Four Seasons Suite where Gemma will be giving a short presentation followed by cake tasting. You will also get the opportunity to chat with Gemma on the day. To register your interest for this event, please contact the Wedding Team here